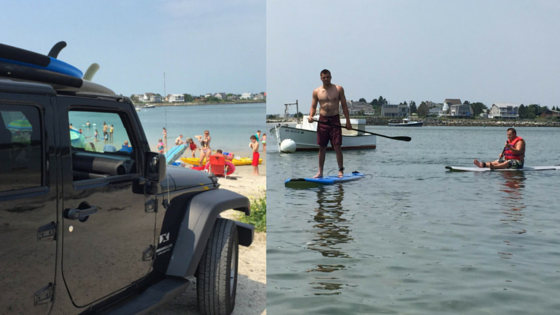 This weekend my family had the pleasure of getting out on the water, in a different fashion..Stand Up Paddle Boarding...one of the fastest growing watersports around. No matter what your age or level of athleticism you can easily maneuver the board and enjoy a day of fun exploring the coast. (As shown in the picture above, we adapted the watersport for my special needs brother, which brought him absolute joy to be on the water with his nephew.)
One of our favorite spots to rent paddle boards is Black Point Surf Shop. This is located at 134 Black Point Road in Scarborough, on your way to the beach. They have 10+ rentals available, included in the rental is your life jacket, paddle and velcro leash. And while you are there, browse the shop for cool surfing gear! Other rental shops in the area are: Arlberg Ski and Surf, Fun and Sun Rentals and Coastal Rentals.
One of our favorite spots to put in is down at Ferry Beach. There is a boat launch area and you can paddle around to the Fishermans Co-op or around to Pine Point Beach. Other favorite spots are: Kettle Cove and Maine Audobon on Pine Point Road. For a full list of Scarborough Beaches and Amenities CLICK HERE.
Adventures are endless and it is a great full body core workout!
#paddleboarding #watersports #ScarboroughBeach #ScarboroughThingsToDo #NoLimits #HandicapSports